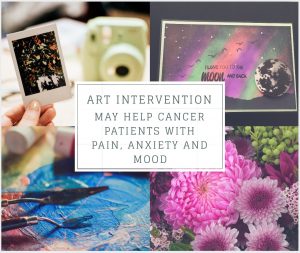 Art Intervention May Be Beneficial for Cancer Patients
A bedside visual art intervention may help with cancer patients' pain, anxiety, and mood, according to a study published online April 17 in the European Jouurnal of Cancer Care.
J.J. Saw, of the Mayo Clinic School of Medicine in Rochester, Minn., and colleagues assessed whether a brief bedside visual art intervention facilitated by art educators improved mood and reduced pain and anxiety in 21 patients with hematological malignancies. The goal of the brief bedside visual art intervention session was to teach art technique for about 30 minutes.
The researchers found that there was a significant improvement in positive mood and pain scores as well as a decrease in negative mood and anxiety. The vast majority of patients (95 percent) felt brief bedside visual art intervention was an overall positive experience and wished to participate in future art-based interventions (85 percent).
"This accessible experience, provided by artists within the community, may be considered as an adjunct to conventional treatments in patients with cancer-related mood symptoms and pain," the authors write.
At Botanica Medica our Naturopaths come across lots of interesting studies and are always updating their knowledge. If you would like to make an appointment with one of our Naturopaths call Botanica Medica on 8271-1827 today. They are only to happy to share the knowledge they have gained through their studies and patient outcomes, and get you feeling better. Botanica Medica is located at 97 Glen Osmond Road, Eastwood and appointments are available Monday to Saturday including some after hours.
REFRENCES – study published online April 17 in the European Journal of Cancer Care.
FRIDAY, April 27, 2018 (HealthDay News)
HealthDay News · May 01, 2018
Artwork created in Canva