COCOA FLAVONOLS INFLUENCE SKIN PHOTO AGEING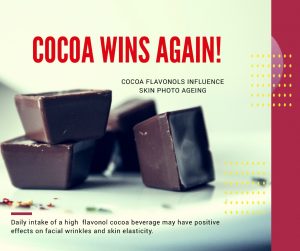 Daily intake of a high flavonol cocoa beverage may have positive effects on facial wrinkles and skin elasticity in moderately photo-aged women, a recent study suggests. "We found that 24 weeks of daily cocoa flavonol consumption improved the primary endpoint of wrinkle depth in moderately photo-aged women. In addition, there were significant beneficial effects for secondary endpoints of skin elasticity and the minimal erythema dose (MED)," the researchers wrote in the Journal of Nutrition.
MED is defined as the threshold dose of exposure that may produce sunburn.

The beneficial effects on MED of UV-B found in this data may imply that cocoa flavonols also offer a level of protection for the skin from UV radiation.

The randomised, double-blind, placebo-controlled trial included 64 healthy women aged between 43 and 86, who had visible facial wrinkles, and moderate photo-ageing.

The participants were divided into two equal groups, with one group receiving 4 g of a fat-reduced cocoa powder that provided 320 mg of cocoa flavonols per day, while the control group received 4 g of a nutritionally matched, cocoa flavoured placebo without flavonols each day for 24 weeks.

The researchers found that at the end of the 24 week intervention the group that took the high-flavonol cocoa powder had a significantly improvement in wrinkle severity, when looking at measures of average skin roughness, and wrinkle depth compared with the control group (P = 0.023).

They also noted that the treatment group displayed significant improvements in skin elasticity compared to the control group (P=0.027).

"Interestingly, we [also] found a small but significantly greater weight reduction for the cocoa group than for the placebo group. Cocoa products and cocoa flavanols have been known to have beneficial
effects on obesity."
At Botanica Medica our Naturopaths are well aware of the importance of a good diet and the effect it can have on your life both physically and mentally. They come across lots of interesting studies and are always updating their knowledge. If you would like to make an appointment with one of our Naturopaths call Botanica Medica on 8271-1827 today. They are only to happy to share the knowledge they have gained through their studies and patient outcomes, and get you feeling better. Botanica Medica is located at 97 Glen Osmond Road, Eastwood and appointments are available Monday to Saturday including some after hours.
Journal source

J Nutr. 2016 Jan;146(1):46-50. doi: 10.3945/jn.115.217711. Epub 2015 Nov 18.
Artwork completed in Canva