October 10, 2018
Tracey Cook
Increase Fibre To Fight Depression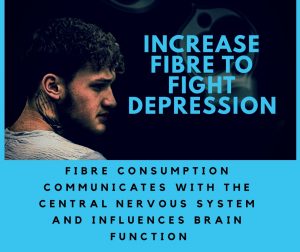 An apple a day may keep more than your dentist away with a new study from China showing that there is an inverse association between fruit and vegetables consumption and depressive symptoms among US adults.
The study, published in the journal Nutrition, looked at dietary data from 16,807 adults who were aged 20 years or older. Researchers found that even after adjusting for a wide variety of potential confounders, the inverse association between total fibre, vegetable fibre, and fruit fibre were inversely associated with depressive symptoms intake and depressive symptoms was statistically significant in the age group younger than 45 years and the 45 to 64 years group for both men and women.
"In the present study, we found a nonlinear relationship between total fibre intake and the risk of depressive symptoms.  When total fibre intake was at approximately 21 g/day, the risk of depressive symptoms reached a relatively low level, which has important public health implications."
"Compared with the adequate intake of dietary fibre (25 g/day for women and 38 g/day for men), the usual intake of dietary fibre averaged only 15 g/day in most Americans. Thus, increasing intake of the foods rich in dietary fibre may be advocated for the prevention of depressive symptoms," the authors stated.
While the mechanism by which fruit and vegetable fibre affects depression is unclear, the authors suggest three possibilities.
"Although the mechanism underlying the impact of dietary fibre on depression remains poorly understood, several possibilities have been suggested. First, dietary fibre can alter the composition of intestinal microbiota and intestinal microbiota may regulate inflammation, oxidative stress, serotonergic system and stress response; thereby fibre consumption communicates with the central nervous system and influences brain function."
"Second, short-chain fatty acids, produced by fermentation of dietary fibre, have been suggested to regulate inflammatory responses, which is an underlying mediating pathway in depression. Third, postprandial hyperglycemia may promote the overproduction of oxidative stress, and dietary fibre can lower postprandial plasma glucose, which may inhibit the inflammatory processes," the authors said.
"Our study suggested that intakes of total fibre, vegetable fibre, and fruit fibre were inversely associated with depressive symptoms in US adults. Further large-scale prospective studies are needed to confirm our findings," the authors concluded.
At Botanica Medica our Naturopaths are well aware of the importance of  exercise, a good diet and the effect it can have on your life both physically and mentally. They come across lots of interesting studies and are always updating their knowledge. If you would like to make an appointment with one of our Naturopaths call Botanica Medica on 8271-1827 today. They are only to happy to share the knowledge they have gained through their studies and patient outcomes, and get you feeling better. Botanica Medica is located at 97 Glen Osmond Road, Eastwood and appointments are available Monday to Saturday including some after hours.
Source:
Nutrition. 2018 Mar 21;54:48-53. doi: 10.1016/j.nut.2018.03.009
Artwork created in Canva