January 10, 2018
Tracey Cook
Fruit, Vegetable, and Legume Intake, and Cardiovascular Disease and Deaths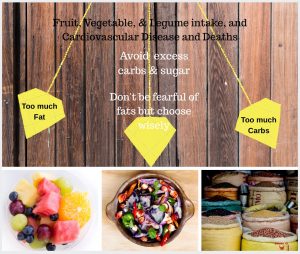 It's January, the start of the year, the start of good intentions, the start of many diets.
This study is a good look at food and what our body gets out of it and in turn what our body gives us back, because everything we put in our mouths has a reaction or put in a better way feeds something. What are you feeding? Are you feeding health, longevity etc or are you feeding liver disease, cardiovascular disease, diabetes etc. because what we put in our mouths feeds something, not just our stomachs, it's not just about how much we weigh.
* A large cohort of 135,335 healthy individuals from 18 socioeconomically diverse countries was followed for a median of 7.4 years to evaluate the association between the intake of fruits, vegetables, and legumes and the risk of cardiovascular disease and death. There was an inverse association between higher fruit, vegetable, and legume intake and major cardiovascular disease, myocardial infarction, cardiovascular mortality, noncardiovascular mortality, and total mortality. The hazard ratio for total mortality was 0.78 for individuals having three to four servings per day compared with the control population, and there was no further decrease in risk seen with increased consumption.
* Increased consumption of fruit, vegetables, and legumes was associated with a lower risk of mortality, and the optimal number of servings appears to be three to four per day. This is the equivalent of 375 to 500 g/day.
The Pendulum Has Swung: The PURE Study
In the 1950s, we started to see that saturated fat was clogging our arteries and we assumed too much fat was bad, and the pendulum swung to carbohydrates. Now, the PURE study shows that obtaining the majority of one's energy from carbohydrates may not be good either and the fat we avoided isn't as bad as we thought it was.
The Prospective Urban Rural Epidemiology (PURE) study looked at 135,335 individuals from 18 countries and evaluated the percentage of energy obtained from different food sources through a food-frequency questionnaire. The participants were followed for 7.4 years.1
Populations with low and middle income ate the largest amount of processed carbohydrates (up to 60%), which often consisted of white bread and rice. The groups that consumed >60% of their energy from carbohydrates had the highest all-cause mortality, including that from heart disease.
What's Wrong With Processed Carbs?
Too much sugar is associated with elevated triglycerides, which are made by the liver to store unused carbs, and is the main cause of fatty liver. It is also associated with low HDL (or apolipoprotein A1) and a high apolipoprotein B (apoB). This study showed that high carbs were associated with a high apoB-to-apoA1 ratio, which is a better predictor of heart disease than LDL. ApoB is the small dense LDL that is more atherogenic than the larger-sized LDL. And a high apoA1 is associated with HDL levels, which are anti-atherogenic. A high apo B/apoA1 ratio is bad, and it rises with a diet high in sugar and processed carbohydrates.
Fats: Choose Wisely
This study showed a protective effect from all types of fat. But be careful in interpreting this information. For one, fat is dense in calories, which can lead to weight gain. Animals also store toxins in their fat. Eating a lot of animal fat, particularly from red and processed meats, is not a good idea according to the evidence.2 Other fats such as mono-unsaturated fat (olive oil) and polyunsaturated fat (fish, nuts, and avocados) are protective.3
Carbs Are Not Created Equal
Vegetables and fruit are good sources of carbohydrates, but these are more expensive. Our most vulnerable populations consume cheap sources of carbs, which are processed and associated with high mortality rates Another study published from the PURE data showed that even small amounts of vegetables and fruit (3–4 servings a day) reduced the risk of heart disease by 24% (HR, 0.76) compared with 6 to 8 servings that reduced it by 31% (HR, 0.69).4
The United States offers large corn subsidies to farmers, which encourages the consumption of processed sugar (corn syrup). This drives down costs, making these carbohydrates more affordable. Maybe the government should change to subsidize those foods we want our most vulnerable populations to eat more of? According to really good evidence, this would reduce mortality and the incidence of the chronic diseases that we spend most of our time treating.
At Botanica Medica our Naturopaths are well aware of the importance of exercise, a good diet and the effect it can have on your life both physically and mentally. They come across lots of interesting studies and are always updating their knowledge. If you would like to make an appointment with one of our Naturopaths call Botanica Medica on 8271-1827 today. They are only to happy to share the knowledge they have gained through their studies and patient outcomes, and get you feeling better. Botanica Medica is located at 97 Glen Osmond Road, Eastwood and appointments are available Monday to Saturday including some after hours.
References
1. Dehghan M, Mente A, Zhang X, et al. Associations of fats and carbohydrate intake with cardiovascular disease and mortality in 18 countries from five continents (PURE): a prospective cohort study [published online August 28, 2016]. Lancet. doi: 10.1016/S0140-6736(17)32252-3. http://www.thelancet.com/journals/lancet/article/PIIS0140-6736(17)32252-3/fulltext
2. Micha R, Penalvo JL, Cudhea F, et al. Association between dietary factors and mortality from heart disease, stroke, and type 2 diabetes in the United States. JAMA. 2017;317(9):912-924. http://jamanetwork.com/journals/jama/fullarticle/2608221
3. Estruch R, Ros E, Salas-Salvado J, et al. Primary prevention of cardiovascular disease with a Mediterranean diet. N Engl J Med. 2013;368(14):1279-1290. http://www.nejm.org/doi/full/10.1056/NEJMoa1200303
4. Miller V, Mente A, Dehghan M, et al. Fruit, vegetable, and legume intake, and cardiovascular disease and deaths in 18 countries (PURE): a prospective cohort study [published online August 28, 2016]. Lancet. doi: 10.1016/S0140-6736(17)32253-5. http://www.thelancet.com/journals/lancet/article/PIIS0140-6736(17)32253-5/fulltext
Published in Primary Care and
2 other channels
Journal Scan / Research · September 07, 2017