December 20, 2017
Tracey Cook
Mixture of Probiotic Strains Reduces SCORAD Index and Topical Steroid Use in Young Patients With Moderate Atopic Dermatitis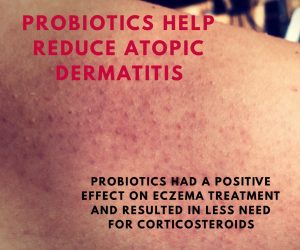 Mixture of probiotic strains reduces SCORAD index (is a clinical tool for assessing the severity of atopic dermatitis) and topical steroid (are most commonly prescribed medications for treating dermatitis and eczema they are applied directly to the skin) use in young patients with moderate atopic dermatitis (is a type of inflammation of the skin that can result in itchy, red, swollen and cracked skin).
TAKE-HOME MESSAGE
* Probiotics had a positive effect on eczema treatment in young patients and resulted in less need for corticosteroid treatment.
* The authors of this trial evaluated the effect of probiotics in the treatment of eczema. All 50 patients included received topical steroids, a moisturizer, and an oral antihistamine; patients in the treatment group were also given a daily pill containing 109 colony-forming units of a mixture of three probiotic strains. Patients in the probiotic group had greater improvements in the total SCORAD index, eczema intensity, and eczema spread but not in subjective symptoms compared with the control group. The mean change in the SCORAD index was −83% in the probiotic group and −24% in the placebo group. Less corticosteroid use was observed in the probiotic group.
It is great to see this article in the "mainstream" American dermatology literature because it raises awareness of a practical, useful treatment strategy that dermatologists should incorporate into their practices immediately.  It is inexpensive, completely safe, and parents (and adult patients) love having something "natural" to do.  There have been almost 20 articles published about probiotics and atopic dermatitis starting almost 15 years ago, but almost no dermatologists are aware of this literature.
So, what to do with this study and the probiotics in atopic dermatitis literature in general.  First, in terms of disclaimer, it is a difficult literature to decide what to do with.  Most of the articles show that probiotics do something, either in reducing the severity of ongoing atopic dermatitis or to prevent atopic dermatitis if given to a pregnant female who is at high risk for having a child with atopic dermatitis.
If probiotics were expensive or risky, I'd say we need to wait for better info before we implement in practice.  However, given that they are reasonably priced and safe and we have decent evidence that they probably do something, I've been using them for years.
At Botanica Medica our Naturopaths come across lots of interesting studies like this one on probiotics helping to reduce the severity of atopic dermatitis. They themselves have seen great results with probiotics in their patients when combined with a good diet and sometimes a little extra help from our herbal dispensary. Our naturopaths are always updating their knowledge to better help you. If you would like to make an appointment with one of our Naturopaths call Botanica Medica on 8271-1827 today. They are only to happy to share the knowledge they have gained through their studies and patient outcomes, and get you feeling better. Botanica Medica is located at 97 Glen Osmond Road, Eastwood and appointments are available Monday to Saturday including some after hours.
Refrences
JAMA dermatology (Chicago, Ill.)
Anna Wile, MD
Dermatology
Written by
Matthew J Zirwas MD
photo used with permission
artwork created in Canva