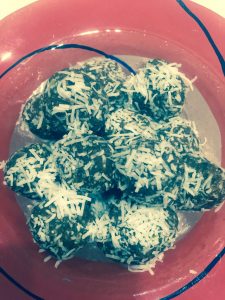 PROTEIN BALLS
Ingredients:
1 can chick peas drained and rinsed
½ cup cacao
1 cup almond meal
½ cup psyllium husks
½ cup chia seeds
½ cup chopped sunflower/pumpkin seeds
½ cup chopped walnuts (or other nuts)
Grated rind of one orange
1 teaspoon vanilla essence
½ cup xylitol
Water enough to bind
Method:
Whiz chick peas in a blender until it looks like moist flour
Add all other ingredients except sunflower seeds and walnuts. Blitz until smooth.
Add enough water to bind but be careful as overdoing it can make them too soft. (If you do put in too much water you can use coconut flour to dry out the mixture).
Add chopped nuts and seeds and mix well
Roll in to balls is desiccated or shredded coconut and refrigerate or freeze
***************************************************************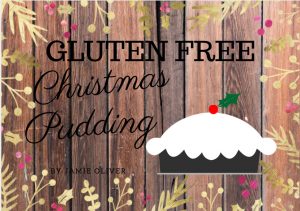 JAMIE OLIVER
* * *G L U T E N  F R E E  C H R I S T M A S  P U D D I N G * * *
SERVES 10 COOKS IN 30 MINUTES PLUS 8 HOURS COOKING TIME DIFFICULTY NOT TOO TRICKY
Fruit, Christmas, Gluten-free, Vegetarian
Ingredients
150 g currants
110 g sour cherries
100 g raisins
50 g chopped dates
1 lime , the grated zest and juice of
½ orange , the grated zest and juice of
50 g mixed peel
75 ml Assam tea , cold (or earl grey if you prefer)
½ tsp mixed spice
¼ tsp ground cinnamon
¼ tsp grated nutmeg
2 ½ tbsp brandy
170 g soft dark brown sugar (or substitute for 70g xylitol and 50g soft dark brown sugar)
1 tbsp golden syrup
½ large cooking apple , grated
50 g toasted almonds , chopped
25 g rice flour
25 g cornflour
110 g fresh gluten-free breadcrumbs
1 tsp gluten-free baking powder
110 g gluten-free suet (alternative butter or coconut oil)
2 large free-range eggs , beaten
1 large free-range egg yolk , beaten
butter , for greasing
Method
In a large bowl combine the dried fruits, zests and mixed peel, then add the citrus juice, cold tea, spices and brandy, and leave overnight for the flavours to develop.
The following day, add the sugar, golden syrup, apple and almonds.
In a clean bowl, place the rice flour, cornflour, breadcrumbs, baking powder, suet and a pinch of salt. Add in the beaten eggs until you have a smooth mix, then stir into the fruit.
Grease a 1.5-litre pudding basin and pour in the pudding mixture until it's ⅔ full. Cover the top with a circle of grease-proof paper, then with 2 pieces of foil and secure with string.
Place an upturned saucer into the base of a deep saucepan. Sit the pudding on top of the saucer, and carefully pour in boiling water to come halfway up the pudding dish. Put the lid on and steam for 8 hours, topping up with water as needed – always keep it halfway up the basin.
Once steamed, remove the pudding from the pan, carefully turn it upside down and lift off the basin. Decorate as you like and serve with brandy cream, custard or ice cream.
NUTRITION PER SERVING
Calories    375     19%
Fat           15.5g    22%
Saturates  5.9g    30%
Protein      4.3g    10%
Carbs        52.1g   20%
Sugars     42.4g    47%
OF AN ADULT'S REFERENCE INTAKE
If you have used the alternative than the above table will be different.