February 20, 2019
Tracey Cook
Yoga May Help With Rheumatoid Arthritis Symptoms, Severity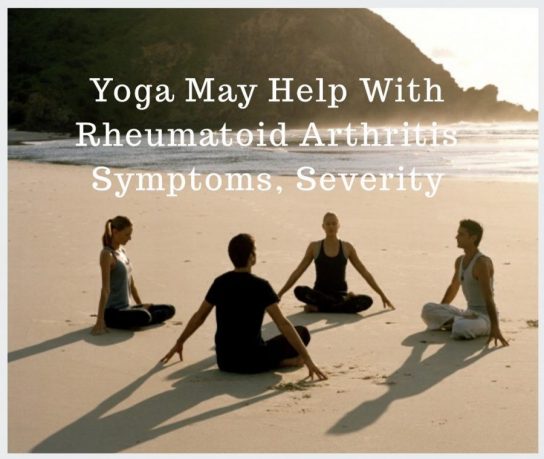 Rheumatoid Arthritis patients assigned to yoga plus disease-modifying antirheumatic drug therapy also had a drop in depression symptoms.
Yoga may be effective as a complementary or adjunct therapy for patients with rheumatoid arthritis taking disease-modifying antirheumatic drugs, according to a study published online Feb. 1 in Restorative Neurology and Neuroscience.
Surabhi Gautam, from the All India Institute of Medical Sciences in New Delhi, and colleagues assessed the effect of a yoga-based mind-body intervention on disease-specific inflammatory markers and depression severity. The authors randomly assigned 72 patients with active rheumatoid arthritis on routine disease-modifying antirheumatic drug therapy to a yoga group (yoga with disease-modifying antirheumatic drugs) or a control group (disease-modifying antirheumatic drugs only).
The researchers found that after eight weeks, the yoga group had a significant decrease in the severity of rheumatoid arthritis, measured by lower levels of various systemic inflammatory markers as well as decreases in disease activity score 28 erythrocyte sedimentation rate and health assessment questionnaire disability index scores. Further, within the yoga group, there was a statistically significant time-dependent, stepwise drop in depression symptoms compared with the control group.
"This study offers a new option," a coauthor said in a statement. "Pharmacological treatments can be supplemented with alternative and complementary interventions like yoga to alleviate the symptoms at both physical and psychosomatic levels."
At Botanica Medica our Naturopaths are well aware of the importance of exercise, a good diet and the effect it can have on your life both physically and mentally. They come across lots of interesting studies and are always updating their knowledge. If you would like to make an appointment with one of our Naturopaths call Botanica Medica on 8271-1827 today. They are only to happy to share the knowledge they have gained through their studies and patient outcomes, and get you feeling better. Botanica Medica is located at 97 Glen Osmond Road, Eastwood and appointments are available Monday to Saturday including some after hours.
Refrences:
study published online Feb. 1 in Restorative Neurology and Neuroscience.
WEDNESDAY, Feb. 13, 2019 (HealthDay News)
Artwork created in Canva