Associations Between Gabapentinoids and Injuries, Accidents, Mental Health, and Criminality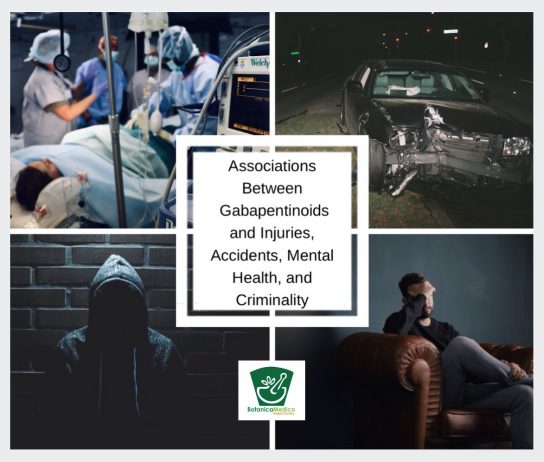 TAKE-HOME MESSAGE
• This study looked at associations between gabapentinoids and poor outcomes in terms of coordination disturbances (eg, body injuries, traffic accidents), criminality, and mental health. Gabapentinoids, like pregabalin (Lyrica), increased the risk of suicidal behavior, unintentional overdoses, head/body injuries, and road traffic incidents in individuals using those medications. This association was particularly notable in younger individuals aged 15 to 24 years.
• The study has some difficulty explaining why these associations would all be increased with gabapentinoids, but the authors provide a good discussion on whether they represent truly a good drug choice for younger individuals.Gabapentinoids: Little evidence for benefit; Growing evidence for harm
With the growing awareness of the adverse effects of the overuse of opioids (Codeine, Hydrocodone, Morphine, Oxycodone, Hydromorphone, Fentanyl) for pain, there has been a significant rise in the off-label use of gabapentinoids (gabapentin and pregabalin), with prescription rates tripling over the past 15 years. Despite this increase, there is no convincing evidence supporting their use in common pain conditions, including low-back pain and sciatica.1
The only approved pain indications for this class of drugs (with limited evidence of benefit) include the following:
• Post-herpetic neuralgia
• Neuropathies
• Fibromyalgia (pregabalin only)
In spite of the lack of evidence of benefit for many pain conditions, there is growing evidence for potential harm.
In this study, 191,973 people from the Swedish Prescribed Drug Register were followed from 2006 to 2013. They acted as their own controls, comparing the incidence of mental health disturbance (suicide, overdose) and consequences of poor coordination (motor vehicle accidents and injuries) when taking and not taking this class of medicines.
Key findings
Adverse consequences were greatest in younger populations (15–24 years) and gradually reduced with advancing age, with no adverse association for those 55 years of age or older.
The 15- to 24-year age group had a hazard ratio (HR) of 2.4 for unintentional overdose, 2.08 for head and body injuries, 1.67 for suicidal behavior, 1.57 for arrests from violent crimes, and 1.4 for motor vehicle accidents (Remember, a HR of 1.4 = a 40% increase; a HR of 2.4 = 140% increase).
Adverse consequences were greater with pregabalin than with gabapentin, likely due to higher potency, bioavailability, and more rapid absorption. This results in higher withdrawal symptoms with pregabalin.
Combining gabapentinoids with other substances with sedating properties (ETOH, opioids, benzodiazepines (Alcohol, Codeine, Hydrocodone, Morphine, Oxycodone, Hydromorphone, Fentanyl, Xanax, Diazepam, Ativan)) increased the risk of adverse consequences due to respiratory depression and cardiac insufficiency.
Why is the risk greatest in the young?
The authors suggest that the higher metabolism of younger populations could place them at risk for more withdrawal problems, leading to impulsivity and emotional instability, including aggression. Younger populations are also more likely to use other substances with this class of drugs, resulting in the high risk of unintentional overdose (HR, 2.4).
What to use for things like chronic low-back pain?
The American College of Physicians rated the following as having evidence for a "moderate" effect for chronic low-back pain2:
• NSAIDs (Nonsteroidal anti-inflammatory- not for long term use)
• Motor control exercises
• Tai chi
• Progressive muscle relaxation
• Multidisciplinary rehabilitation
• Acupuncture
• Cognitive–behavioral therapy
• Biofeedback
There is a much longer list of therapies having a small effect; nothing had a large effect. It is interesting that the majority of treatments found to have the most evidence for the greatest effect for chronic low-back pain are not drugs at all.
At Botanica Medica Herbal Centre we always seek to address the underlying cause of your health condition and you can be sure we will always treat you as an individual. If you would like to make an appointment with one of our Naturopaths call Botanica Medica on 8271-1827 today. They are only to happy to share the knowledge they have gained through their studies and patient outcomes, and get you feeling better. Botanica Medica is located at 97 Glen Osmond Road, Eastwood and appointments are available Monday to Saturday including some after hours.