WINNER 2018 BEST FOUNDATION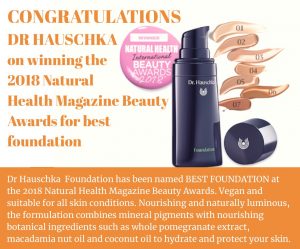 The Dr Hauschka Foundation has been named BEST FOUNDATION at the 2018 Natural Health Magazine Beauty Awards. Vegan and suitable for all skin conditions. Nourishing and naturally luminous, the formulation combines mineral pigments with nourishing botanical ingredients such as whole pomegranate extract, macadamia nut oil and coconut oil to hydrate and protect your skin.
The Dr Hauschka Foundations are stocked at Botanica Medica 97 Glen Osmond Road, Eastwood phone 8271-1827
TIPS
For a lighter coverage mix Foundation with your usual Dr. Hauschka moisturiser.
For more coverage apply Colour Correcting Powder under Foundation and over Foundation.
Apply naturally using your fingers, lightly with a cosmetic sponge or targeted to specific areas using a Foundation Brush.
Because the nourishing ingredients will begin absorbing into your skin straight away we recommend placing your pump of product on the lid and apply from there, rather than from the back of your hand.
Thanks for the tips Dr Hauschka!
Foundation key ingredient whole pomegranate
Pomegranates not only taste good, they have a range of health benefits. Anti-fungal, antioxidant, anti-inflammatory and wound-healing properties have been ascribed to them. They're also resistant to drought and can store much moisture and vitality in their fruit.
We process whole Pomegranate fruit, including the Peel for our products, obtaining a preparation that promotes regeneration of the skin.
Pomegranate Peel is an important ingredient because its extract inhibits an enzyme that is responsible for the breakdown of collagen in ageing skin.
At the same time, the extract activates an enzyme that's involved in the production of collagen.
Pomegranate Seed Oil contained in the whole-fruit extract stimulates cell division in the keratinocytes, cells which produce the important skin-strengthening protein keratin.