Adhering To A Healthy Lifestyle Reduces The Risk Of Developing Dementia, Even In Those At Genetic Risk Of Alzheimer's Disease, New Research Suggests.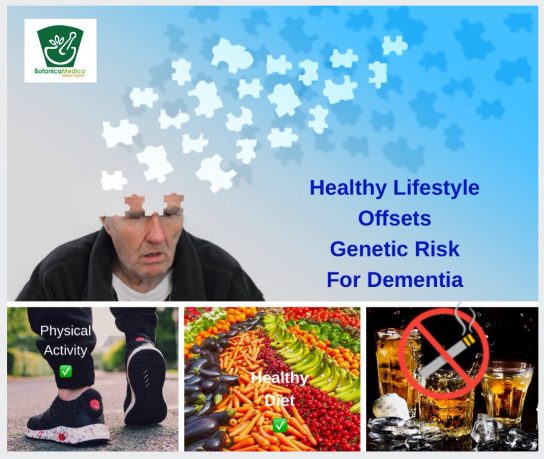 Investigators found that individuals at high genetic risk who followed an unhealthy lifestyle were almost three times more likely to develop dementia within 8 years than those with a low genetic risk and a favourable lifestyle.
Fewer participants with high genetic risk who had a healthy lifestyle developed dementia than their counterparts with an unhealthy lifestyle.
This is the first study to comprehensively investigate whether a healthy lifestyle offsets genetic risk for dementia, study investigator Elzbieta Kuzma, PhD, research fellow in neuroepidemiology, told Medscape Medical News.
"Although our study does not prove a causal relationship, the take-home message is very optimistic, as our results indicate that living a healthy lifestyle was associated with a reduced dementia risk regardless of genetic risk."
The study sends "a very important public health message," added Kuzma.
"It suggests that healthy lifestyle interventions may help to prevent or delay dementia, even in people with high genetic risk."
The findings were presented here at the Alzheimer's Association International Conference (AAIC) 2019. The study was also published online July 14 in the Journal of the American Medical Association.
Biobank Data
Researchers used data from the UK Biobank study, a population-based cohort of more than 500,000 participants who attended one of 22 assessment centers across the United Kingdom between 2006 and 2010.
From this Biobank, researchers identified 196,383 individuals aged at least 60 years (mean age 64.1 years), 52.7% of them women, who had available genetic information and did not have dementia at baseline.
For each study subject, researchers calculated a polygenic risk score. They used previously published data from genome-wide association studies for Alzheimer's disease in those with European ancestry, and included almost 250,000 individual genetic variants that they weighted according to association with Alzheimer's disease and then standardized.
The variants included APOE (Apolipoprotein E, a protein involved in metabolising fats) but many others, too, said Kuzma. "It was a really comprehensive polygenic risk score."
From this genetic information, they categorized subjects into low (lowest quintile), intermediate (quintiles 2 to 4), and high (highest quintile) genetic risk for developing dementia.
The research team also developed a healthy lifestyle index for each study subject. They used four well-established dementia risk factors — smoking status, physical activity, diet, and alcohol consumption.
At Botanica Medica our Naturopaths are well aware of the importance of a healthy lifestyle that includes exercise, a good diet and the effect it can have on your life both physically and mentally. They come across lots of interesting studies and are always updating their knowledge. If you would like to make an appointment with one of our Naturopaths call Botanica Medica on 8271-1827 today. They are only to happy to share the knowledge they have gained through their studies and patient outcomes, and get you feeling better. Botanica Medica is located at 97 Glen Osmond Road, Eastwood and appointments are available Monday to Saturday including some after hours.
Refrences:
Healthy Lifestyle Offsets Genetic Risk for Dementia
Pauline Anderson
July 15, 2019
LOS ANGELES
Elzbieta Kuzma, PhD research fellow in neuroepidemiology, University of Exeter Medical School, England.