Kanuka Honey vs Acyclovir for the Topical Treatment of Herpes Simplex Labialis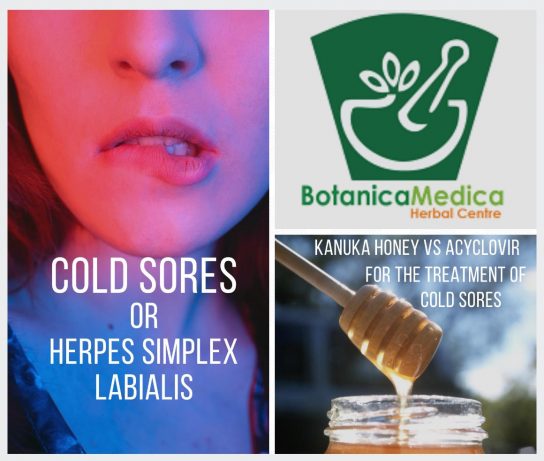 TAKE-HOME MESSAGE
• This randomized controlled trial of 952 adults who were enrolled within 72 hours of a herpes simplex labialis episode compared the effectiveness of New Zealand medical-grade kanuka honey with topical acyclovir for the treatment of this condition. Although acyclovir has been found to be effective in reducing healing time and pain in herpes simplex labialis, this study demonstrated a therapeutic equivalence between medical-grade kanuka honey and acyclovir.
• These findings suggest that topical kanuka honey could be an alternative to acyclovir cream.
OBJECTIVE
To compare New Zealand medical grade kanuka honey with topical aciclovir for the treatment of herpes simplex labialis.
DESIGN
Prospective parallel randomised controlled open-label superiority trial.
SETTING
76 community pharmacies across New Zealand between 10 September 2015 and 13 December 2017.
PARTICIPANTS
952 adults randomised within the first 72 hours of a herpes simplex labialis episode.
INTERVENTIONS
Random assignment 1:1 to either 5% aciclovir cream or medical grade kanuka honey (90%)/glycerine (10%) cream, both applied five times daily.
OUTCOME MEASURES
The primary outcome was time from randomisation to return to normal skin (stage 7). Secondary outcomes included time from randomisation to stage 4 (open wound), time from stage 4 to 7, maximal pain, time to pain resolution and treatment acceptability.
RESULTS
Primary outcome variable: Kaplan-Meier-based estimates (95% CI) for the median time in days for return to normal skin were 8 (8 to 9) days for aciclovir and 9 (8 to 9) for honey; HR (95% CI) 1.06 (0.92 to 1.22), p=0.56. There were no statistically significant differences between treatments for all secondary outcome variables. No related serious adverse events were reported.
CONCLUSION
There was no evidence of a difference in efficacy between topical medical grade kanuka honey and 5% aciclovir in the pharmacy-based treatment of herpes simplex labialis.
At Botanica Medica Herbal Centre we always seek to address the underlying cause of your health condition and you can be sure we will always treat you as an individual.
If you would like to make an appointment with one of our Naturopaths call Botanica Medica on 8271-1827 today. They are only to happy to share the knowledge they have gained through their studies and patient outcomes, and get you feeling better. Botanica Medica is located at 97 Glen Osmond Road, Eastwood and appointments are available Monday to Saturday including some after hours.
References:
BMJ Open
Michael Allen, MD
Alex Semprini1, Joseph Singer, Irene Braithwaite1, Nick Shortt1, Darmiga Thayabaran1, Melanie McConnell2, Mark Weatherall3, Richard Beasley1
Artwork created in Canva, photo from Unsplash