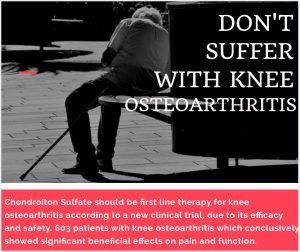 KNEE OSTEOARTHRITIS AND CHONDROITIN SULFATE
Chondroitin sulfate should be first line therapy for knee osteoarthritis according to a new clinical trial, due to its efficacy and safety.
Published in the journal Annals of Rheumatic Disease, researchers conducted a randomised double-blind trial over six months in 603 patients with knee osteoarthritis  which conclusively showed significant beneficial effects on pain and function.
The trial compared chondroitin sulfate (800mg/daily) to a well-known non-steroidal anti-inflammatory drug (celecoxib; 200mg/daily) and placebo. The primary outcome measures were pain scores using the Visual Analogue Scale and pain and function using the Lequesne Index.
"Both the chondroitin sulfate and the celecoxib groups showed a statistically greater reduction in pain compared with the placebo group (p=0.001 for chondroitin sulfate and p=0.009 for celecoxib) after six months without any significant difference between the two active groups," the authors reported.
"At study conclusion (day 182), significantly more patients and more investigators scored the global assessment as excellent or good in the chondroitin sulfate and celecoxib groups compared with the placebo, while there was no difference between the two active groups (p=0.774)." In other words, this trial showed them to be as effective as each other.
Osteoarthritis (OA) is the most prevalent musculoskeletal disease in our society and is a widespread cause of pain, loss of function and disability. People often resort to medication to manage symptoms and in severe cases, joint replacement surgery.
"Until recently, a general consensus that analgesics, including paracetamol and non-steroidal anti-inflammatory drugs (NSAIDs) have demonstrated a positive benefit-risk profile when used to treat symptoms of knee OA," the researchers stated; "but recent publications have aggressively challenged the use of paracetamol for the treatment of symptomatic OA because of a lack of efficacy and a considerable degree of toxicity, especially at the upper end of the standard analgesic dose and similarly, safety profiles of oral NSAIDs remain a concern and caution is recommended before selecting the preparation and dose for a patient."
"Therefore, recent guidelines recommend maintenance therapy to be conducted with symptomatic slow-acting drugs for OA (SYSADOAs), a class of drugs that is recognised to offer a high degree of safety and tolerability."
"To our knowledge, this is first trial ever to have been conducted in full accordance with the European Medical Association guidelines and our results confirmed the excellent safety profile of chondroitin sulfate and shown a compelling benefit-risk profile, in light of the known clinical risks associated with chronic usage of NSAIDs and paracetamol," the authors stated.
According to Dr Lesley Braun, Blackmores Institute Director, the results of this paper underscores the importance of high quality chondroitin sulfate supplementation in the management of knee OA, especially in this older population requiring long-term treatment.
"This study adds to the evidence-base supporting the role chondroitin can play in the treatment of knee osteoarthritis. It is as effective as celecoxib, with a better safety profile, and the addition of a chondroprotective effect. I believe healthcare professionals should consider this as legitimate first line treatment for their patients," said Dr Braun.
If you would like to know how best to treat knee osteoarthritis our naturopaths are available for appointments Monday to Friday so don't hesitate to call 8271-1827 and make an appointment today.
Source:
Ann Rheum Dis 2017;0:1–7. doi:10.1136/annrheumdis-2016-210860