DIET, MICROBES AND MENTAL HEALTH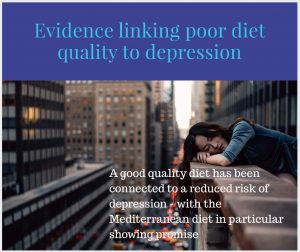 A new American study has summarised findings from a number of clinical studies using dietary intervention to improve depression, anxiety, or stress and the role the gastrointestinal microbiota may have in these disorders.
Published in Nutritional Neuroscience the review found that diet quality, as well as specific dietary components and dietary supplements aid in prevention or treatment of symptoms of depression, anxiety, and stress. Specifically, high diet quality, prebiotic fibre consumption, and probiotic supplements reduced anxiety symptoms and had anti-depressant effects in humans.
The researchers noted that observational studies provided evidence linking poor diet quality to depression, with habitual intake of sweets and fast-food being seen more frequently in stressed and depressed individuals, while simultaneously consuming less fruit and vegetables.
In contrast, a good quality diet has been connected to a reduced risk of depression – with the Mediterranean diet in particular showing promise.
Dietary recommendations to reduce the risk of depression include increasing the intake of fruits, vegetables, fish, whole-grains, legumes, and olive oil, in conjunction with reducing the consumption of highly refined grains, red meat, fried foods, and sweets.
The study found that fibre from fruits and vegetables was also directly associated with reduced likelihood of depression symptoms, irrespective of total fibre intake, which, according to the authors, may be partially explained by the high concentrations of antioxidants within fruits.
"Fibre and antioxidants may synergistically benefit gut health by enriching bifidobacteria and reducing inflammation," the authors stated.
Galactooligosaccharides and fructooligosaccharides are two commonly studied prebiotics for mood and behaviour, and have demonstrated the ability to enhance Bifidobacterium in humans, with their consumption seen to have anxiolytic and anti-depressive effects on subjects.
"Reports from dietary interventions provide evidence that there is a link between diet quality and mood.  Yet, the directionality of these relationships still needs to be discerned."
"The exact role the gastrointestinal microbiota play in the development of mental disorders is still being elucidated, but its involvement in bidirectional communication between the brain and gastrointestinal tract via the gut-brain axis is presumably a fundamental link between the microbiota and mood disorders," the authors explained.
Clinical trials investigating probiotics were shown, in the results of the review, to be as efficacious as therapeutic agents for the treatment of depression, anxiety and stress with both the physiological biomarkers and psychological symptoms relieved or suppressed following the consumption of probiotics – specifically B. longum and L. casei Shirota.
The authors suggest that well-designed dietary intervention trials targeting the interconnection of diet quality, dietary components, and the gastrointestinal microbiota are required, as is identifying the microbial species residing in the gastrointestinal tract and their involvement in mood disorders.
"Delineating the relationship between diet, the gastrointestinal microbiota, and mental health is important for future applications of diet therapy for the treatment of depression, anxiety, and stress," the authors concluded.
At Botanica Medica our Naturopaths are well aware of the importance of  exercise, a good diet and the effect it can have on your life both physically and mentally. They come across lots of interesting studies and are always updating their knowledge. If you would like to make an appointment with one of our Naturopaths call Botanica Medica on 8271-1827 today. They are only to happy to share the knowledge they have gained through their studies and patient outcomes, and get you feeling better. Botanica Medica is located at 97 Glen Osmond Road, Eastwood and appointments are available Monday to Saturday including some after hours.
Source:
Nutr Neurosci. 2018 Jul 9:1-14. doi: 10.1080/1028415X.2018.1493808
Artwork created in Canva