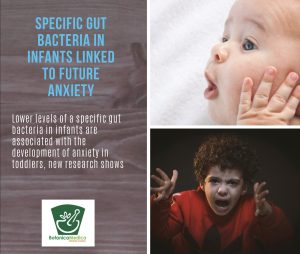 Lower levels of a specific gut bacteria in infants are associated with the development of anxiety in toddlers, new research shows.
In one of the first human studies to compare the composition of a baby's gut bacteria with brain development, investigators found that levels of Prevotella  in fecal samples at 12 months of age were linked to anxiety-like behaviors at age 2 years.
Interestingly, the biggest predictor of having decreased levels of Prevotella was recent exposure to antibiotic use.
"Growing evidence supports the idea that antibiotics, poor diet, and other factors in the modern world are leading to the loss of our traditional gut bacteria, and in turn, health problems," investigator Prof Peter Vuillermin, Deakin University, Geelong, Victoria, Australia, said in a press release.
Lead author Amy Loughman, PhD, from the Food and Mood Center at Deakin, added that the findings show that the microbiome plays an important role in brain development.
"This study and previous research suggest that the early-life gut microbiota may be important for health outcomes in later life," Loughman said.
The findings were published online February 18 in EBioMedicine.
Does Antibiotic Use Play a Role?
"Despite intense interest in the relationship between gut microbiota and brain development, longitudinal data from human studies are lacking," the investigators write.
For the current analysis, the researchers assessed data from 201 participants (52.7% boys) in the Barwon Infant Study, an Australian birth cohort study that included 1074 infants.
Stool samples were collected when the children were 1, 6, and 12 months of age, and 16S rRNA gene sequencing was performed.
The 99-item Child Behavior Checklist (CBCL) was completed by parents when their offspring were 2 years of age. The CBCL includes Internalizing, Externalizing, and Total Problems subscales.
Twenty-two participants were classified as "behavior cases" on the basis of CBCL scores. Among these 22, 14 had elevated scores (≥60) on the Externalizing subscale, nine had elevated scores on the Internalizing subscale, and 10 had elevated scores on the Total Problems subscale.
At 1 and 6 months, there were no significant associations between microbiota levels and subsequent behavioral outcomes. However, associations were found with stool samples collected at 12 months.
Prevotella was detected in only 4% of the case infants, vs 44% of the infants who had normal scores on the CBCL (P < .001).
After adjusting for a wide range of variables, including mode of birth, household pet ownership, breastfeeding at 4 weeks, and maternal depressive symptoms, the association between decreased Prevotella levels and subsequent behavioral problems persisted.
At Botanica Medica Herbal Centre we always seek to address the underlying cause of your health condition and you can be sure we will always treat you as an individual.
If you would like to make an appointment with one of our Naturopaths call Botanica Medica on 8271-1827 today. They are only to happy to share the knowledge they have gained through their studies and patient outcomes, and get you feeling better. Botanica Medica is located at 97 Glen Osmond Road, Eastwood and appointments are available Monday to Saturday including some after hours.
 References
Specific Gut Bacteria in Infants Linked to Future Anxiety Deborah Brauser February 21, 2020
Lead author Amy Loughman, PhD, from the Food and Mood Center at Deakin
investigator Prof Peter Vuillermin, Deakin University, Geelong, Victoria, Australia
Artwork created in Canva