* * * H A I R   C O L O U R * * *
Tints Of Nature Permanent Hair Colour has a range of long lasting, permanent hair colours containing certified organic ingredients that do cover grey hair!
Tints of Nature's blend of natural and organic ingredients, combined with plant-derived extracts, vitamins C and E claim they will actually enhance, protect and moisturise as you colour your hair!
-great range of colours that can be mixed together to provide your own unique shade.
-the range is free of detrimental substances – ammonia (it swells the hair shaft and lifts the cuticle causing damage), parabens, resorcinol (which is a pigment) and propylene glycol.
-contains up to 60% of organic ingredients, which have been certified by the Soil Association and ECOCERT.
-included with your hair colour is a specially formulated ph balanced shampoo and conditioner that enable the cuticle to be closed down as well as preventing colour fade, and restoring the ph of your hair, leaving it with a natural healthy feel and shine that others will admire.
-uses pharmaceutical grade peroxide (highest quality and mildest).
-PPD's(paraphenylenediamines – pigment) are of the lowest possible percentage.
-cost $22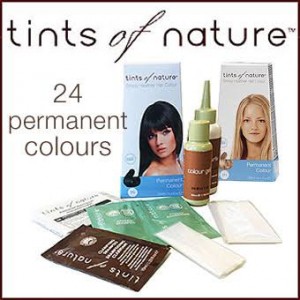 Your Tints of Nature hair colour can be purchased from Botanica Medica 97 Glen Osmond Road Eastwood open Monday to Saturday or call and put aside your favourite hair colour today 82711827