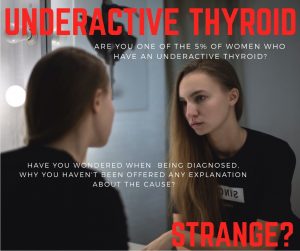 Are you one of the 5% of women who have an underactive thyroid?
Have you wondered when being diagnosed, why you haven't been offered any explanation about the cause?
Strange ?
It is 2017 and we are not offered any information about the causes of your underactive thyroid (or that your thyroid is tending towards underactive).
Did you know that Iodine and Selenium deficiency are still likely the most common causes of an underactive thyroid. Other nutrients such as Zinc, Iron, Vitamin A and D are also important but Iodine and Selenium are vital to ensuring a healthy thyroid
​What to do First?
​
Testing to see your current Iodine levels. Unfortunately this easy, initial investigation is rarely requested upon diagnosis.
I am more routinely performing this test on my clients, to enable more accurate dosing of Iodine when indicated.
Known as a Urinary Iodine Loading Test, a one off dose of Iodine is taken. You then collect your urine for the next 24 hours to see how much is excreted. This allows us to calculate how much is retained and hence what your levels and need for Iodine is.
This is safe to do even if you are on prescription Thyroxine (Eutroxsig, Oroxine)
​Why is Iodine so important?
Thyroxine ( known as T4) consists of 4 Iodine molecules attached to an amino acid called Tyrosine. SO even you are lacking in Iodine, you cannot make enough thyroid hormone.
Various studies have highlighted the link between low urinary Iodine and later development of underactive thyroid.
​WAIT BEFORE SUPPLEMENTING IODINE
But before you start slowly supplementing with Iodine, it is crucial to ensure you have adequate Selenium levels. If not, supplementing with specific forms of Selenium, along with maximising food sources must be done as well.
It has been shown that low Selenium can lead to adverse effects when supplementing with Iodine.
Not only is selenium important in helping Iodine work, low Selenium levels are considered a major factor in elevated TPO antibodies. These are the antibodies that are most commonly found at diagnosis in underactive thyroid (Hashimoto's thyroiditis) and various studies have shown the ability of selenium supplementation in lowering TPO antibodies and improving thyroid function
So you can get to the heart of your thyroid problem, not just rely on script medication to make you feel better.
Interestingly, those who have autoimmune thyroid antibodies (TPO and TG antibodies) are at much greater risk of developing other autoimmune conditions, even if they are taking prescribed Thyroxine. So it is more important than ever to treat the underlying causes, not just to make you feel better, but to help prevent future health problems.
If you think you have a thyroid issue or would like to know how better to treat your thyroid condition, then contact Botanica Medica and make an appointment with either Craig Wainwright or Tracey Cook today on 8271-1827. Botanica Medica is located at 97 Glen Osmond Road Eastwood
Urinary iodine test cost $90