The Urinary Tract Microbiome in Health and Disease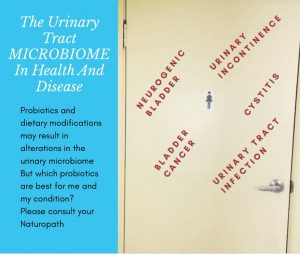 Take-Home Message
·         This systematic review of the literature reporting on the urinary microbiome in healthy individuals and its alterations in urologic disorders included 89 studies published between 1991 and 2016. The urinary microbiome may differ between healthy individuals and those with a host of urologic conditions, including urinary incontinence, interstitial cystitis (bladder pain syndrome), neurogenic bladder (dysfunction of the urinary bladder due to disease of the central nervous system or peripheral nerves involved in the control of urination), urothelial carcinoma ( is a type of cancer that occurs in the urinary system), nephrolithiasis (kidney stone disease), and chronic prostatitis/chronic pelvic pain syndrome. Data, however, are limited to individual studies with small numbers for many of these conditions. Furthermore, they are not always consistent between reports on similar conditions and appear to be markedly impacted by the method of urine collection.
·         Probiotics and dietary modifications may result in alterations in the urinary microbiome, which could explain their reported success in prevention of urinary tract infection, bladder cancer, and urolithiasis. However, deliberate manipulation of the urinary microbiome for therapeutic purposes is in its early stages. How to modify the microbiome and if doing so will be beneficial are questions that remain largely unanswered.
CONTEXT
The urinary tract, previously considered a sterile body niche, has emerged as the host of an array of bacteria in healthy individuals, revolutionizing the urology research field.
OBJECTIVE
To review the literature on microbiome implications in the urinary tract and the usefulness of probiotics/prebiotics and diet as treatment for urologic disorders.
EVIDENCE ACQUISITION
A systematic review was conducted using PubMed and Medline from inception until July 2016. The initial search identified 1419 studies and 89 were included in this systematic review.
EVIDENCE SYNTHESIS
Specific bacterial communities have been found in the healthy urinary tract. Changes in this microbiome have been observed in certain urologic disorders such as urinary incontinence, urologic cancers, interstitial cystitis, neurogenic bladder dysfunction, sexually transmitted infections, and chronic prostatitis/chronic pelvic pain syndrome. The role of probiotics, prebiotics, and diet as treatment or preventive agents for urologic disorders requires further investigation.
CONCLUSIONS
There is a microbiome associated with the healthy urinary tract that can change in urologic disorders. This represents a propitious context to identify new diagnostic, prognostic, and predictive microbiome-based biomarkers that could be used in clinical urology practice. In addition, probiotics, prebiotics, and diet modifications appear to represent an opportunity to regulate the urinary microbiome.
PATIENT SUMMARY
We review the urinary microbiome of healthy individuals and its changes in relation to urinary disorders. The question to resolve is how we can modulate the microbiome to improve urinary tract health.
At Botanica Medica our Naturopaths are well aware of the importance of  exercise, a good diet and the effect it can have on your life both physically and mentally. They come across lots of interesting studies and are always updating their knowledge. If you would like to make an appointment with one of our Naturopaths call Botanica Medica on 8271-1827 today. They are only to happy to share the knowledge they have gained through their studies and patient outcomes, and get you feeling better. Botanica Medica is located at 97 Glen Osmond Road, Eastwood and appointments are available Monday to Saturday including some after hours.
Urologic Cancer
Copyright © 2017 Elsevier Inc. All rights reserved.
Additional Info
* Article Citation
European urology focus
The Urinary Tract Microbiome in Health and Disease
Eur Urol Focus 2016 Nov 14;[EPub Ahead of Print], IM Aragón, B Herrera-Imbroda, MI Queipo-Ortuño, E Castillo, JS Del Moral, J Gómez-Millán, G Yucel, MF Lara 

From MEDLINE®/PubMed®, a database of the U.S. National Library of Medicine.
FEATURED
Published in Primary Care
Journal Scan / Review · October 18, 2017