Dr Lesley Braun: Valerian safety profile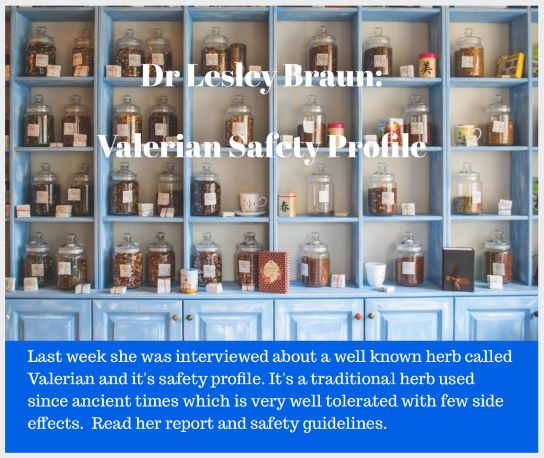 Last week I was interviewed about a well known herb called valerian and its safety profile. It's a traditional herb used since ancient time which is very well-tolerated with few side effects.
It's most often used for insomnia and as a gentle relaxant, usually in combination with other herbs. The valerian ingredient is a listed medicine on the Australian Register of therapeutic goods which means it's been evaluated for safety and found to be suitable for use in over the counter supplements.
As with any medication, ensuring the correct dose is used, for the correct indication, over an appropriate period of time will maximise benefits and reduce possible risks.  In regards to valerian specifically, very few side effects are reported in clinical trials or post-market surveillance reports with the most common ones being minor and self limiting such as headache and gastrointestinal upset.
As with all medicines, its not entirely without risk and idiosyncratic reactions can occur which tend to be extremely rare and immunologically based.  In the case of valerian, there have been rare  cases of hepatotoxicity reported to regulators, but the causality is not 100% certain as often other medicinal agents were taken at the same time .
It's important to note that not all products bought overseas are regulated to the same high quality standards as in Australia and appear to have a higher possibility of serious adverse events, according to scientific reports. To minimise risk its important that people carefully select products regulated to high quality standards. Purchasing products with an AUST L or AUST R on the label indicates they have been regulated by the TGA (Therapeutic Goods Administration). In addition, the elderly, people taking multiple prescription medications and with existing liver function issues should seek professional advice.
Products containing valerian have been sold by Blackmores as far back as the 1950s. To provide some context, since 2006, when the Blackmores current product range containing valerian was listed on the Australian Register of Therapeutic Goods (ARTG), almost 80 million doses have been consumed by Australians. Of the 80 million doses consumed, zero serious adverse reactions to valerian have been reported to Blackmores which is testimony to its high level of safety.
The ingredient, green tea extract was also a subject of the story on 60 Minutes. Of the Blackmores Group's extensive range of over 1000 products 15 contain green tea. All products are below and well within acceptable and safe levels based on assessments made by the European Food Safety Authority (EFSA).
The European Food Safety Authority assessed the safety of the active component in green tea extract, with no indication of liver injury for doses of this active component below 800mg daily. For example, with Blackmores Exercise Multi, which contains 6 mg of active ingredient per tablet, a consumer would need to take more than 133 tablets every day for 4 months to reach a level that may be associated with potential liver injury"
Blackmores stands unequivocally by the safety and quality of all of our products which are made in accordance with the most stringent global industry manufacturing standards and government requirements. Each Blackmores product passes more than 30 rigorous quality tests and checks during all stages of the manufacturing process, prior to being released to market.
Dr Lesley Braun: Valerian safety profile
11 Feb 2019
Artwork created in Canva