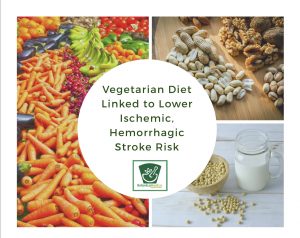 A vegetarian diet rich in nuts, vegetables, and soy has been linked to a lower risk of both ischemic and hemorrhagic stroke, new research suggests.
In two large cohorts of more than 13,000 individuals, investigators found a vegetarian diet was associated with a 60% to 74% decreased risk of ischemic stroke and 65% lower risk of hemorrhagic stroke.
"The take-home message is that lifestyle, especially healthful diets such as vegetarian diets, are important in the prevention and management of stroke," senior author Chin-Lon Lin, MD, chief executive officer, Buddhist Tzu Chi Medical Foundation, Hualien, Taiwan told Medscape Medical News.
The study was published online February 26 in Neurology.
Role of B-12
Vegetarian diets and other dietary patterns emphasizing plant foods have previously been linked to a lower risk of incident stroke, the investigators note.
On the other hand, many vegetarians have a low intake of vitamin B12, which might be responsible for raising homocysteine, an amino acid in the blood, thereby increasing the risk of stroke. In addition, some studies suggest animal protein may be beneficial for the prevention of hemorrhagic stroke.
"The combined effect of the supposed harm of high homocysteine and the supposed benefits of low blood pressure, glucose, and cholesterol (unique aspect of vegetarian diets) on stroke disease incidence is unclear," they add.
The researchers examined the incidence of overall, ischemic, and hemorrhagic stroke in vegetarians as well as nonvegetarians in two prospective cohorts in Taiwan and analyzed whether any association between vegetarian diet and stroke risk might be modified by vitamin B12 intake.
Participants in both cohorts were Tzu Chi Buddhists, about 30% of whom were full-time vegetarians (defined as avoidance of fish and meat).
Tables 1 and 2. Salient baseline differences between the cohorts  
Cohort 1 (n = 5050)
| | | |
| --- | --- | --- |
| Characteristic | Nonvegetarians | Vegetarians |
| Participants | N = 3626 | N = 1424 |
| Mean age (years) | 51.7 | 53.8 |
| Male sex | 47.2% | 25.1% |
| Ever-smoking | 21.2% | 8.5% |
| Ever-alcohol consumption | 18.0% | 8.1% |
| Hypertension | 14.5% | 14.2% |
| Leisure physical activities | 68.7% | 64.7% |
At Botanica Medica our Naturopaths are well aware of the importance of  a good diet and the effect it can have on your life both physically and mentally. They come across lots of interesting studies and are always updating their knowledge. If you would like to make an appointment with one of our Naturopaths call Botanica Medica on 8271-1827 today. They are only to happy to share the knowledge they have gained through their studies and patient outcomes, and get you feeling better. Botanica Medica is located at 97 Glen Osmond Road, Eastwood and appointments are available Monday to Saturday including some after hours.
References
Medscape Medical News © 2020 
Cite this: Vegetarian Diet Linked to Lower Ischemic, Hemorrhagic Stroke Risk – Medscape – Mar 03, 2020.
Batya Swift Yasgur, MA, LSW
The study was published online February 26 in Neurology.